!FOR SALE!

– CASA PACIFICA BED & BREAKFAST –

!FOR SALE!



ASKING PRICE $595,000


FEATURE VALUES:
10 Beds / 7 Baths included in Main House, 4 Guest Suites plus a Rooftop Casita
Mauna Kea Rooftop Cafe, Event Space and Commercial Kitchen
$800,000+ in USD Replacement Value 
Year Round Staff and General Management
Ocean and Jungle Views Throughout

3 Buildings on 600 Sqm. / 6,458 Sqft. Lot
TITLED / Ready for Purchase via Bank Trust 
BED & BREAKFAST HISTORY:
20+ Year Bed and Breakfast Repeat Guest Clientele
Historical Financial Records
Top Search Rankings on Google
Top Rankings on Top Rental Sites all w/ 5 Star Reviews
ADDITIONAL AMENITIES:
10 Minute Walk to Chacala Bay
Quiet Jungle Setting
Large Bodega Storage
High Speed Internet ThroughoutFully Furnished
Wifi and Telephone
Town Water and Septic System
PRICE: $595,000.00 USD OBO

Contact:
Casey Connors for Details
Email: solinno@gmail.com
Call: (760) 201-6187 in USA
OR:
In Chacala, Nayarit, MX:
Call: Juan Pedro:
+52 (327) 101-7005
The Main House
The main level of the house features a large living room, a dining room, a large master bedroom with a king size bed; it also has a small bedroom or office; a large kitchen and two bathrooms. Susana occupied this floor as her home. It is also a high end rental option with a total of 200 square meters / 2152 sq ft (with verandas) Wi-Fi Included.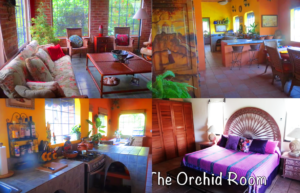 La Casita
A one bedroom / king bed, with two daybeds in the living room, accommodations for four. It features a kitchenette, a dining area, a private bath, a large closet, a desk and shelves, plus access to the communal kitchen. La Casita is surrounded by gardens, jungle, birds and an ocean view. The sundeck is a "garden in the sky!" Air conditioning and Wi-Fi Included.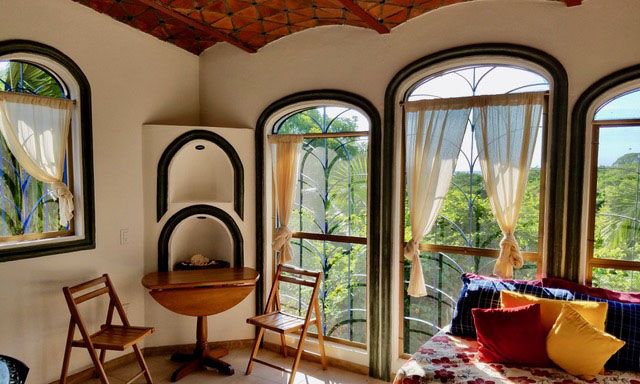 Galeria Del Mar
An Artist's and Lovers Hideaway at Casa Pacifica
The Galeria del Mar Suite at Casa Pacifica offers visitors an experience of the sea with the serenity of a secluded retreat. Each stone, shell and piece of wood was selected from nearby beaches and rivers to portray The Galeria as a gallery of natural art. Recessed lighting can be turned on or a myriad of candles are at your disposal. Even the shower, surrounded by large stones, feels more like waterfall then one man made. With a king size bed and views of a private garden in front most guests have a hard time departing. Come experience the magic of The Galleria! NOTE: All windows are screened and open for continuous airflow or able to closed for Air-Conditioning. Wi-Fi Included.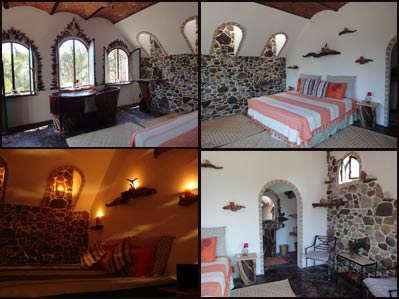 The Blue Hawaii Suite
Combining themes from Mexico and Hawaii
The Blue Hawaii offers a queen size bed and a sofa bed for a single small person.   It includes a full kitchen, spacious bath with dressing room, dining and living area. Furniture and décor comes from family heirlooms, Hawaiian art and Mexican artisan centers.  Gardens full of plants and flowers surround the suite.  Lounging chairs are scattered about. Wi-Fi Included.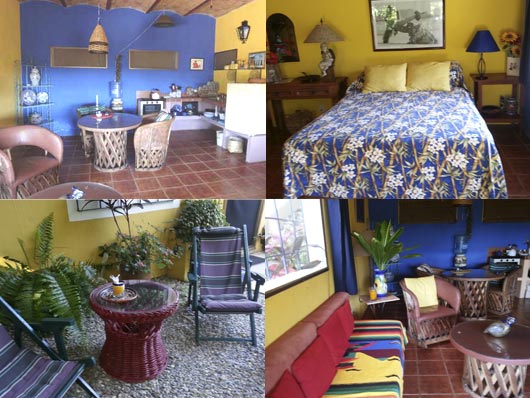 Sun Suite
Sunny Garden Views at Casa Pacifica
Newly decorated Sun Suite is true to its name, the hues of the sun dance from floor to ceiling while a new patio and garden invites one outside. Relax at the family heirloom rattan dining table, prepare a meal at the nearby kitchen, relax in the queen size bed, the large private bath includes and dressing room.  Enjoy the views of the sea and jungle. Wi-Fi Included.