Mauna Kea Cafe in Chacala Mexico
This is Chacala Nayarit Casa Pacifica's breakfast cafe open in the winter months from 8am to 11am, Monday to Saturday. It is open to the public and to our guests. Susana is your host and this beautiful venue, overlooking Chacala Nayarit's jungle and Chacallila Bay in the private community of Marina Chacala (link to real estate page). It is the ideal place to catch up with friends, make new ones and find out what is on the social calendar in Playa Chacala each week. There is WiFi available as well as a book exchange.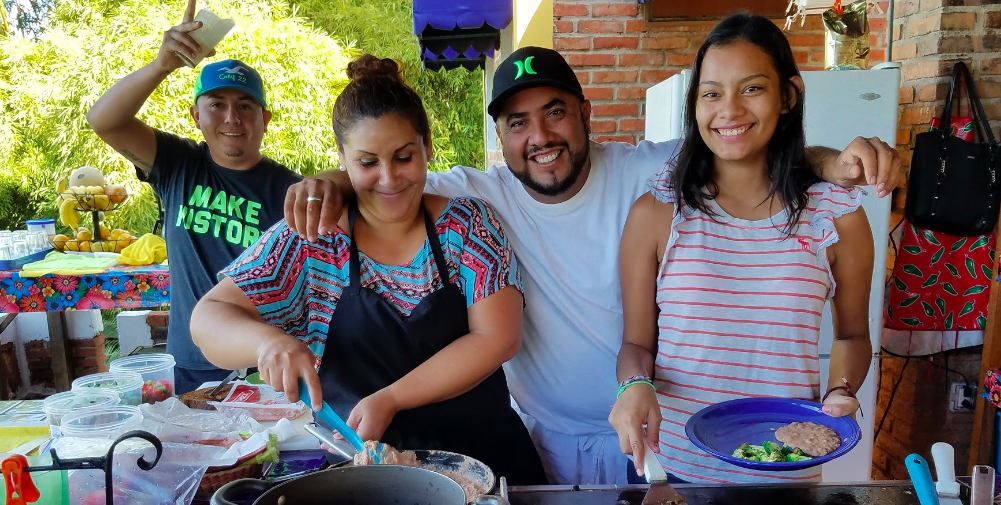 Juan Pedro is our head chef and his omelettes are famous! Bertha has been our waitress and housekeeper for over 10 years and makes our homemade bread and mango jam. The breakfasts are range from Mexican to American in cuisine.
Chacala Nayarit birders love to spot our wonderful range of bird life from our terrace and we have binoculars available to see them and the humpback whales that come to Playa Chacala Mexico to give birth from December to March each year.
We even have our own floor show – we have a species of mammal living in our jungle that the locals refer to as "tejones". In English they are called coatimundis. They love to show up for our organic leftovers and are particularly fond of our sweet oranges. What better way to start the morning!
Mauna Kea Cafe "Magic on The Rooftop" at Casa Pacifica in Chacala Mexico!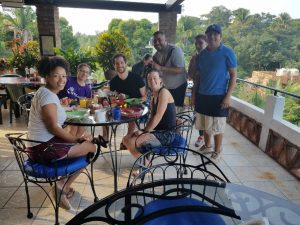 Friends Gathering at Mauna Kea Cafe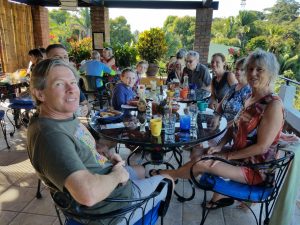 Smiles For Great Food and Magical Rooftop Vibes!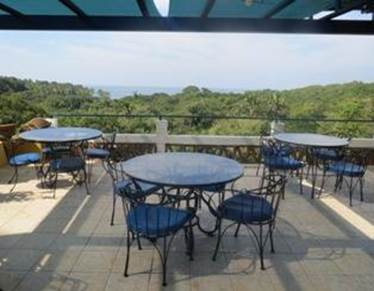 Humpback Whales Can Be Seen Breaching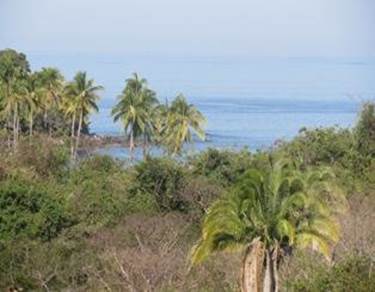 View from the Cafe over-looking Chacalilla Bay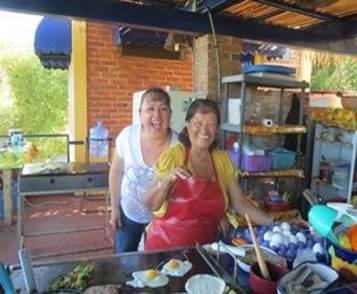 Service From The Heart with Bertha and Chabela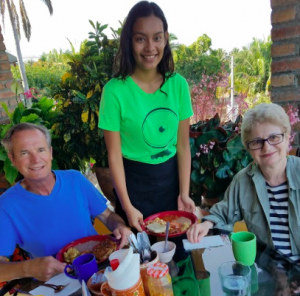 Marilynn in Action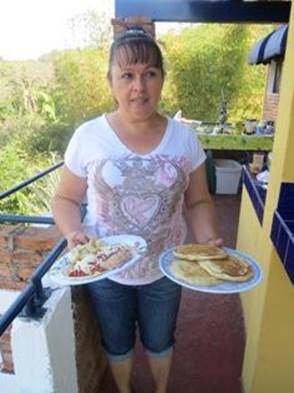 Bertha with Huevos Rancheros and Hot Cakes
MAUNA KEA CAFÉ MENU
BREAKFAST #1: VEGGIE OMELETTE
BREAKFAST #2: EGGS A GUSTO
-ESTRELLADO (OVEREASY)
-REVUELTO (SCRAMBLED)
BREAKFAST #3: HOTCAKES
-WITH PECANS & BANANA
BREAKFAST #4: FRENCH TOAST
-HOMEMADE BREAD
BREAKFAST #5: WAFFLES
-WITH PECANS & BANANAS
BREAKFAST #6: GRANOLA & YOGURT
BREAKFAST #7: HUEVOS RANCHEROS
LOOK FOR DAILY SPECIALS!!
ALL BREAKFASTS INCLUDE COUNTRY FRIED POTATOES & FRESH FRUIT & HOMEMADE TOAST
SIDE – ORDERS
BEVERAGES: COFFEE, MILK, TEA, COCO, FRESH SQUEEZED ORANGE JUICE EACH
MEATS: BACON, HAM OR PORK CHOPS