Children of Chacala Nayarit

Playa Chacala is a fantastic family resort. Apart from being one of the safest beaches on the coast, it is one of only 14 beaches in Mexico to receive beach certification.  its white sandy beach and pristine waters give Playa Chacala the distinction it rightly deserves.
The Chacala Nayarit Community Park is a new addition to Chacala.  It is the best designed park on the  coast, offering a multi-use sports court for basketball, volleyball and soccer.  Not forgetting the little ones, a play set is a gathering place for parents and their children.  The park is well maintained with a state of the art irrigation system designed by a local ex-pat resident.
Chacala primary aged kids are welcome to attend Chacala's Dale Reinhardt Learning Center's after school program and summer school which offers fun activities like: language, chess, dancing, baking, games, music, painting and school curriculum including online digital learning, math manipulatives, English.  Chacala kinder aged children are welcome to attend the local kindergarten or choose the new Montessori and Waldorf School.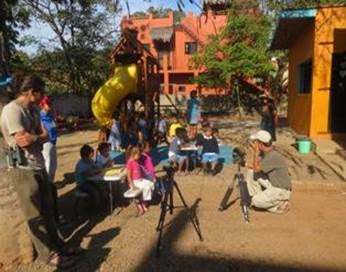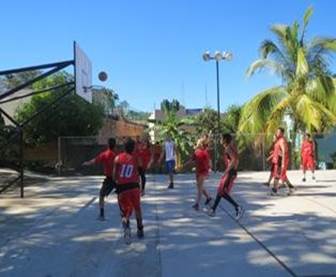 The kindergarten at the start of their birding trip and the Chacala Community Park basketball court