Chacala Activities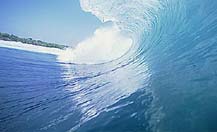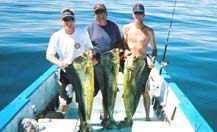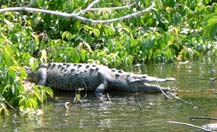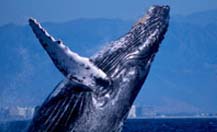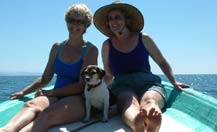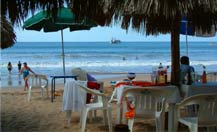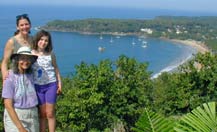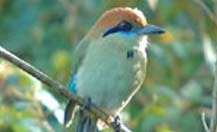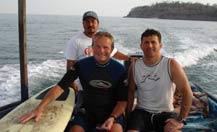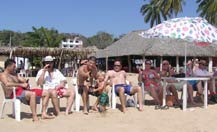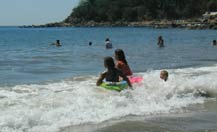 A DAY IN THE LIFE OF CHACALA MEXICO
6:15 AM TO 7:30 AM
Join Stephanie, Ben and others on a daily hike in the mountains above Chacala Mexico.  Hike around a crater, through orchards to a hidden beach all the while looking at the coast line and the Bay of Chacala.  The problems of the world are solved and friendships are made.
Early AM
Birding with Lance, Zan and others in the jungle around Chacala.  Three hundred species of birds can be found living in the canopy of the many trees around lakes and bays.
8:00 AM to 9:00 AM
Join Mary Jane and her many enthusiasts in the practice of yoga at the Marina Chacala Beach Club.
7:00 TO 10:00 AM
Take a whale watching cruise with Cundo or Hector's team.  Hold on to your seat when a mama Humpback and her baby breech from the blue waters below.  In Puerto Vallara it is said that there are ten boats for every one whale, while in Chacala  there is one boat for every ten whales!
8:00 To 11:00 AM
Breakfast at the Mauna Kea Café with Chabela and Bertha preparing Mexican and American specialties like a loaded veggie omelet or pecan pancakes and waffles or French toast.  Help yourself to fruit salad and fresh brewed coffee, homemade toast and country fried potatoes.  Meet friends or make new ones while looking at Chacalilla Bay.  Check out the hiking book, select free maps.  Check out the cafe whiteboard for events, classes, excursions, services.
NOON AND BEYOND
Enjoy the quiet beach of Chacala Mexico.  Set up your umbrella near new found friends.  Play and swim in the gentle surf.  While still in your swimming suit, eat sautéed shrimp, barbecued fish and lobster at palapa beachside restaurants.  Watch the dramatic sunsets, different every night.  Toast to the whole experience with icy cold Mexican beer or margaritas.
SIESTAS
Return to for an afternoon siesta.  Guests at Casa Pacifica fall asleep listening to the birds and waves.
LATER
Join Karla and others at Casa Cabellitos at 6:00 for the Friday Night Socials.  Gather with friends, new and old, at the palapa restaurants for dramatic sunsets and a sharing of the day's treasures.
OTHERS
Hail a taxi or a ride to Thursday's Market Day in La Penita, find gifts and treasurers.  After meet friends for breakfast or lunch at Eddie's Xaltemba Restaurant.   Chacala church services are Tuesday late afternoon, listen for the bell.   Join OM and others on Thursday at the Cultural Center for senior events of music, dance, poetry and beyond.  Boats leave from the fisherman's dock for surfing at Las Caletas, snorkeling at Islas Marias and Las Cuevas, whale watching and fishing.
PARTICIPATE
Cambiando Vidas (Changing Lives) scholarship program is a great opportunity for volunteers who would like to share their careers and professions with students.  Pick your passion and interest  at the Dale Reinhardt Learning Center after school program.  Learn about Rotary in Chacala.  Susana will provide transport to the weekly Rotary meetings held in La Penita.  Come meet local and visiting Rotarians from around the world.  Meetings are in English and Spanish.
TO BE ANNOUNCED
Poetry readings, Cuban band, dancing, Mexican holiday events, local parties, Paul Swan's music nights, Bob and Betty's barbecues, book club and more.
"SUMMING UP" CHACALA MEXICO:
INEXPENSIVE
SPANISH SPEAKING BEACH TOWN
GOOD CULTURAL EXPERIENCE
LOCAL PRICES FOR EVERYONE
VISITORS FOLD INTO THE RHYTHM OF VILLAGE LIFE
A COMMUNITY THAT CARES FOR EACH OTHER
FAMILIES PLAYING TOGETHER
SLOW PACE OF LIFE
REJUNVENATE THE SPIRIT AND THE BODY
NO NEED TO DRESS-UP
TACOS AND MARGARITAS ON THE BEACH IN A BATHING SUIT
NO WORRY ABOUT WHAT YOU LOOK LIKE
CHILDREN ARE SAFE
WAVES ARE GENTLE FOR SMALL TO ELDERLY
EXPERIENCE LIFE IN A SMALL TOWN
LIFE SAYULITA 20 YEARS AGO
BEAUTY OF A PROTECTED TROPICAL BAY AND BEACH
ONE OF THE MOST BEAUTIFUL BEACHES IN THE WORLD
LOADS OF SMALL VILLAGE EVENTS
SAFE FOR ALL WATER SPORTS
OFF BEATEN TOURIST PATH
CLOSE TO:  PV, SAYULITA, SAN PANCHO, SAN BLAS, GUADALAJARA, TONALA FOR DAY TRIPS
GREAT FOR FAMILY GATHERINGS, REUNIONS AND DESTINATION WEDDINGS
SURF TRANSPORT AND REPORTS