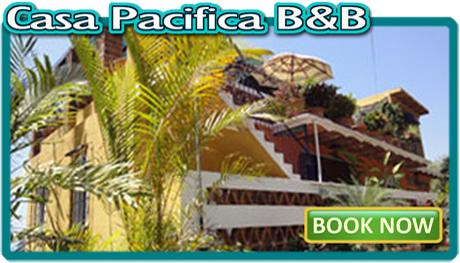 All of us at
CASA PACIFICA
send
Best Wishes for Health and Safety!
COVID Update: Chacala has been on lockdown  since Easter weekend and has no cases.
~
Breaking News!
Casa Pacifica B&B is now
Casa Pacifica
Vacation Rentals
Due to the impact of the COVID Pandemic on worldwide tourism and the hospitality and restaurant industries, it is no longer feasible to go forward with business as usual.
Anticipating that the 2020-21 season will suffer from several critical variables, such as borders, airlines and lockdowns/quarantines, making reservations for your snow bird season is filled with uncertainty.
Under these circumstances, we have made the following changes:
Mauna Kea Cafe
will no longer be included in suite rentals, but rather be available a la carte.
Given social distancing requirements in the coming season,  breakfast can be at the cafe or take out to your suite or garden terrace.
Vacation Rentals
for one-week minimum bookings as follows:
La Casita Bungalow, 1 Bdr. King + LR Double
$500/week – $900/2 weeks – $1700/month for 2 guests*
* Extra guests $15/night per person (Children under 12 free)
The Blue Hawaii and Sun Suite
Studios with Kitchenettes – $450/week – $800/2 weeks – $1500/month
The Galeria del Mar
Studio/King – $400/week – $700/2 weeks – $1300/month
~
We expect that many of you may wish to plan for the eventuality that conditions will improve and make a winter holiday possible. In that case, it would be wise to reserve your preferred dates.
Therefore, we offer the following plan:
Select and email your preferred dates and we will "pencil them in"
Pay a $100 non-refundable "pencil in" fee via PayPal, which will be credited as $150
when the booking is confirmed/used.
(Note, this fee will assist in retaining salaried staff during this period  when there is no income during the pandemic shutdown.)  3. No deposit or balance due payments will be necessary!
Bookings will be paid for at the time of arrival.
In this way, all parties are protected from financial losses due to cancellations or refunds.
The season runs from November 1, 2020 to April 30, 2021.
Pencil in your reservation now!
reservationscasapacifica@gmail.com  ~  1-509-964-3001
David Biviano, Reservations Manager
Call Now From U.S. & Canada: 1-509-964-3001 (David)
From Mexico:+52 1 (327) 101-7005
Juan Pedro
(English and Spanish Spoken)
OR