About Your Host at Casa Pacifica, Chacala Mexico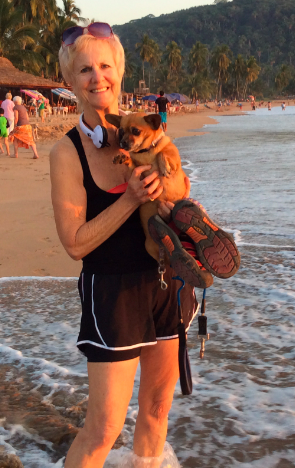 I was born in Boston, Massachusetts, but grew up in California.
I raised my two sons, Randy and Casey, between Lake Tahoe and Hawaii, with a spirit of adventure and exploration.
In 1995 I was traveling around Mexico in an RV and found Chacala Mexico by word of mouth from fellow travelers who talked about this wonderful, hidden bay fronting a small village.
It took me 45 minutes to bump along the dirt track from the main highway to Chacala Mexico.  I was rewarded with a view that I will never forget.  It was an October day and I was basking in summer sun looking at a smooth, glistening bay on golden sand with just 3 palapa covered rustic restaurants offering fish and shrimp to the visiting Mexicans and North Americans.
I camped under a grove of palm trees and so began this incredible journey of perseverance, and  frustration at times, but ultimately a journey of love, humor and understanding.
It was, and still is, like living on the frontier of the Wild West but it was this sense of the unknown that really hooked me in to Chacala, Mexico. I walked through the village, where at the time most of the homes were built out of palm trees with dirt floors.  I discovered a small, locked library that had just been renovated.
This resonated with me as, when my beautiful sister passed away too early, I had made a promise to continue her work with children in some way, and so I decided to set up an after school program located in the library as the perfect legacy for her.
I rented a local house for 2 winters and began building my own home and business to support both myself and my volunteer work.  And so was born "Casa Pacifica" in Chacala, Mexico!
I moved in to my new home in February 2001 and my first guests arrived just one month later.
Originally I had 3 suites: the Orchid Room in the main house and the Blue Hawaii and Sun Suite on the ground floor.
In 2007 I decided to use the Orchid Suite as my own bedroom and my son, Casey, designed and helped build the Galeria del Mar.
In 2002 I launched Chacala's Cambiando Vidas, our scholarship program
The Mauna Kea cafe opened in 2004 and remains a focal point for both guests and visitors to meet new friends, reconnect with old ones and share stories, laughter and village news.
In 2009 I became a Rotarian of the Jaltemba Bay La Penita Rotary Club, then a new club.
In 2018, Casey designed the new one-bedroom bungalow, La Casita, with a rooftop terrace overlooking the jungle and ocean.
I feel that I have provided a unique experience for my guests from around the world, many of whom return to Casa Pacifica each year.
Many guests say, "Susana, you are living in paradise". This is so.