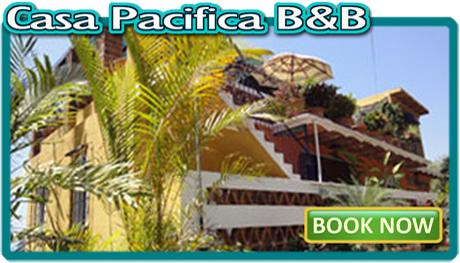 All of us at
CASA PACIFICA
send
Best Wishes for Health and Safety!
COVID Update: Chacala has been on lockdown
since Easter weekend and has no cases.
~
Breaking News!

Casa Pacifica B&B 
is now
Casa Pacifica Vacation Rentals
Due to the impact of the COVID Pandemic on worldwide tourism and the hospitality and restaurant
industries, it is no longer feasible to go forward with business as usual.
The Mexican Government has ordered the cancellation of all current and future reservations until
further notice. This website cannot receive reservations at this time.
Anticipating that the 2020-21 season will suffer from several critical variables, such as borders,  airlines and lockdowns/quarantines, making reservations for your snow bird season is filled with uncertainty.
Under these circumstances, we have made changes going forward.
To receive an update on Casa Pacifica planning for the 2020-21 season, please send an email to:
reservationscasapacifica@gmail.com