CASA PACIFICA B & B in Chacala Mexico
Casa Pacifica B&B, is true to its name, peaceful. The only sounds a guest will hear are the sounds of birds calling and of the ocean waves falling against the shore. Stroll amongst the gardens. Relax in a hammock while listening to water cascading in a nearby fountain. Gather with friends or a good book in the patio areas. Enjoy the many plants, vines and trees whose only purpose is to offer beauty, color and lush forms.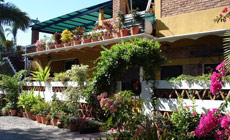 Casa Pacifica is about views: views of Chacalilla Bay, views of the Pacific Ocean, views of the surrounding unspoiled 3,000 acres of green lush jungle, views of each dramatic and unique sunset. Rumor is afoot that there is magic on the rooftop. As one climbs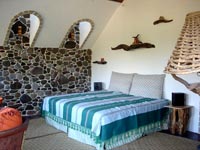 the stairs, burdens get left behind. Guests begin their day by sitting on the rooftop at the Mauna Kea Café, watching the whales and birds while eating a yummy breakfast.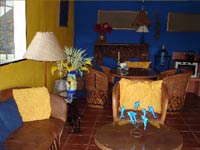 Casa Pacifica offers three options: The Galleria del Mar (Gallery of the Sea), The Blue Hawaii Room and the Sun Room . The Galleria Del Mar is true to its name. It was literally created from the sea: seashells, whale vertebrae, driftwood, stones, sand and palms. Galleria Del Mar  Gallery Click Here.
The Blue Hawaii Suite combines the themes of Mexico and Hawaii. The Sun Suite displays the hues of the sun. The Mauna Kea Café kitchen becomes a suite communal kitchen after breakfast is served. The Blue Hawaii Suite and the Sun Suite have kitchens as well. The suites are designed for the solo traveler, two friends, or a couple. All suites offer: spacious baths with dressing rooms, dining and livin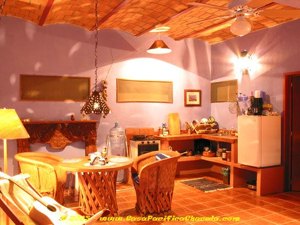 g areas, queen or king size beds.
The Blue Hawaii Suite has an extra sofa bed which can accommodate a small person. Furniture and décor comes from family heirlooms, Hawaiian art and Mexican artisan centers. Guests can choose the B&B plan or the non-meal plan.
Sun Suite & Blue Hawaii Suite Pricing:
$75.00 per night per couple (November thru April)
$50.00 per night per couple (May thru October)
Galleria Pricing:
$75 per night per couple. (November thru April)
$50.00 per night per couple. (May thru October)
*Wireless high speed Internet is available. Patcket8 Internet phone is available. English and Spanish are spoken. See Chacala in Google Earth – Click Here. Guest Testimonials Click Here.

MAUNA KEA CAFÉ
Rooftop pleasures at the Mauna Kea Café are open to the public and include Poncie's infamous breakfasts of omelette's , pancakes, Belgium waffles, French toast, yogurt, fruit, fresh coffee and homemade bread. While eating breakfast, listen to the birdsong and melodic waves, watch the whales. Enjoy the sunrise, sunset, blue skies, the sharing of the day, evening gatherings around the chimenea after special request buffets. The café is the ultimate communal kitchen where the Escobido's and their guests create culinary delights.
CONTACT: Susana Connors
EMAIL: susana@casapacificachacala.com

OR